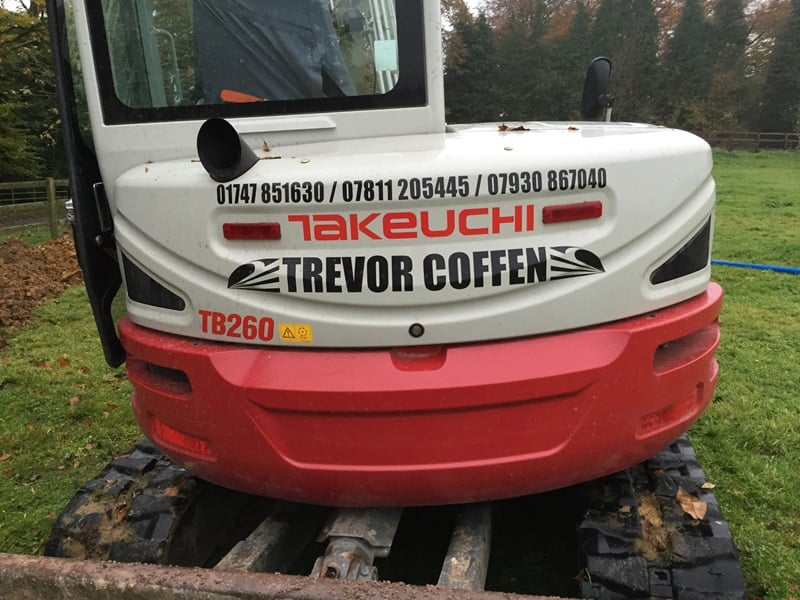 Plant Hire Services in Dorset
As a family-run business in Shaftesbury, Dorset, Trevor Coffen Construction – with local knowledge and extensive experience across the wider south west of England – knows that small construction companies, tradespeople and do-it-yourselfers don't always have the tools and equipment on hand they need to tackle a job.
That's why one of the first services our enterprising construction company decided to branch out with as it grew was to provide small and large plant hire in Shaftesbury, where our firm is based, and further afield in Dorset, Wiltshire and beyond.
If you have the right tools for the job, it's half the battle won, which is why we have invested in a fleet of superbly maintained diggers, dumpers, tractors and trailers. You can also hire heavy plant and equipment such as breakers and rollers.
When you hire construction machinery from Trevor Coffen you not only get a reliable piece of equipment, delivered to your site if you wish, but we can also provide highly experienced drivers and operators at excellent rates.
All of our plant operators are seasoned, qualified professionals who are experienced at working with the machinery and equipment available for hire. These are drivers and operators who have cut their teeth on all sorts of jobs, from major civil engineering projects, house building sites, demolition sites and ground works. They will ensure that the equipment hired for your job is not only used efficiently but also safely. Hiring plant and machinery from Trevor Coffen therefore ensures you can have complete peace of mind that all will run smoothly with your project, whether it be large or small.
Our plant hire experts are able to advise customers about which machinery would be best suited to a particular task, therefore ensuring clients get the maximum efficiency for the minimum spend.
Take excavators, for example. Modern diggers are available to hire from ¾ ton mini-diggers to hefty 14 ton monsters. The right size digger for the job will depend on dig depth, breakout force, required reach, accessibility of the site and so on. There are also a variety of attachments for use with different functions, such as drilling, moving, or clamping. Size also matters when it comes to hiring dumper trucks, which are available in various shapes and sizes from 1-10 tons. When you hire excavators or dumpers from us you can be assured our team will get the job done with the right machinery.
Contact Us
When you need top quality plant hire in Dorset and beyond contact Trevor Coffen Construction, the multi-product specialists, to discuss the right machine hire solution for your project, however complex.